"The Discalced Carmelite Nuns are, by calling, part of the Order of the Blessed Virgin Mary of Mount Carmel. They belong to a family consecrated in a special way to loving and venerating the Holy Mother of God; and they seek to attain evangelical perfection in union with her. Mary's presence among her daughters and sisters pervades the entire Carmelite vocation. It imparts a special Marian tone to their contemplation, sisterhood, evangelical self-denial, and apostolic spirit." (Const. Ch. 3 #53) "In Our Lady we contemplate the ideal of the Order lived to perfection. Her example inspires us to follow in her footsteps. She takes the lead among the Lord's poor and little ones. She best exemplifies contemplative life in the Church." (Const. Ch.3 #55)
Continual Prayer
Each of you is to stay in his own cell or nearby, pondering the Lord's law day and night and keeping watch at his prayers unless attending to some other duty. (Rule #10)
Exhortations
The sword of the spirit, the word of God (cf Eph. 6,17) must abound (cf. Col. 3, 16) in your mouths and hearts (cf Rom. 10,8). Let all you do have the Lord's word for accompaniment (cf Col. 3, 17; Cor. 10,31).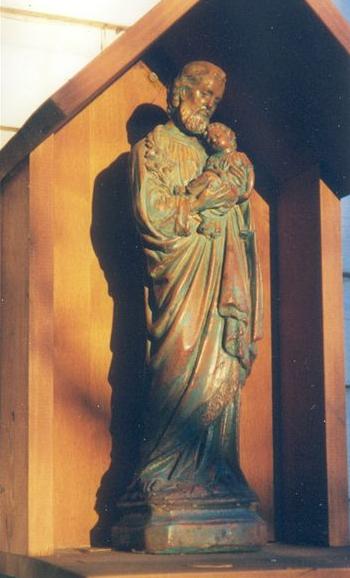 St. Joseph Shrine
Work
You must give yourselves to work of some kind. (Rule #20)
Silence
The apostle would have us keep silence, for in silence he tells us to work (2 Thess. 3,12). As the prophet also makes known to us "silence is the way to foster holiness." (cf Is.32, 17) Elsewhere he says "Your strength will lie in silence and hope (cf Is. 30,15) (Rule #21)
"Discalced Carmelite Nuns are obliged by their vocation 'to live in allegiance to Christ Jesus' and to 'meditate day and night on the law of the Lord and watch in prayer'. Holy Mother was faithful to this principle of the 'primitive' Rule. She renewed the call to contemplation of Mt. Carmel's fathers of old. She made prayer the foundation of her daughters' life and their primary activity.